Cala Deia believes that the elimination of stress and tension is critical for the improvement and maintenance of overall well being. 
The staff at  Cala Deia Spa  is a collaboration of experienced technicians that share in the dedication to meeting and exceeding the clients needs. You can find a balance of health, beauty and wellness are achieved in an oasis of calm at  Cala Deia Spa.

Featured Services
Treatments, designed to satisfy the whole body, are provided by highly trained staff in the field of massage therapy, nail services, and skincare. We believe this is a "A Time for You."
To begin your Cala Deia spa journey in a relaxed state, we ask that you arrive 15 minutes prior to your scheduled appointment time. For a new guest, please allow 30 minutes to accommodate completion of your guest profile. Spa robes, slippers, and private lockers are provided for your comfort. Delayed arrival will limit the time for your experience, reducing the effectiveness of your treatment and the expectations of your visit. In consideration of other spa guests, service time will not be extended for delayed arrivals, and the full price of your service will be charged. Please notify our staff if there are any special physical or medical needs or conditions they need to consider prior to your services (i.e. pregnancy, food or product sensitivities, aggressive medications or special needs ). We recommend that valuable items be left at home.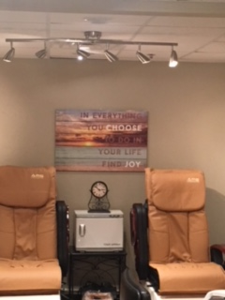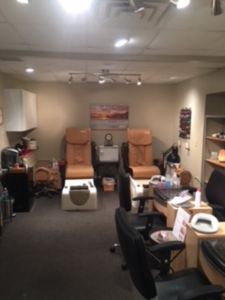 The new expansion of Nail Services is now completed!  Stop in any Saturday during February to check it out.  Celebratory snacks and beverages will be provided!
 5310 Merchandise Dr., Fort Wayne IN 46825​​
Located inside Spiece Fieldhouse Wellness wing.
Spa Contact: (260) 416-6273
Cala Deia spa, suggestive hours:
Monday ................ By appointment
Tuesday................ 10 am - 7 pm
Wednesday ........ 10 am - 7 pm 
Thursday ............. 10 am - 7 pm
Friday ................... 10 am - 6 pm
Saturday .............. 9 am - 4 pm
Sunday ................. By appointment
(Speak with selected staff for additional hours) 
Each tech may be reached by cell, faster:
Deia Frohriep (Owner/Manicurist)  
1-260-466-5125 call/text​
Dennis Lyons (Spa Manager)
260-416-6273  call/text
Lynn Pepple (Massage)
1-260-450-0349 call/text
Ryan Garner (Nail Tech)
1-260-804-5610 call/text
Dee Campbell (Nail Tech)  
1-260-710-3371 call/text
Muna Khader(Skin Care/Massage) 
1-260-515-9251​ call/text